+ hotel ini
Klasifikasi hotel :
Jumlah kamar: 101
Lokasi hotel:
Kota
Atraksi utama:
AQUAPARK
(0.10 km)
Check-in:

14:00

Check-out:

12:00
(kecuali jika ketentuan khusus lainnya berlaku)
Hotel ini berpartisipasi pada program Le Club AccorHotels.

Nikmati semua manfaat yang ditawarkan untuk anggota dan miliki liburan tak terlupakan dengan Le Club AccorHotels.
Layanan
Kamar orang sulit gerak: 101

Piaraan boleh 2

100% hotel bebas rokok


Pertemuan:2

LUKRECJA

Solusi tempat tidur baru yang inovatif untuk kenyamanan optimal Anda.

Kontak
Jana Pawla II 10


08 110

-

SIEDLCE

POLAND
Telp :

(+48)25/3081000

Fax :

(+48)25/3081001
Informasi umum:
Bagaimana menuju hotel
GPS: N 52° 10' 49.38'' E 22° 17' 26.74''
Peta akses
Hotel

>
Akses

>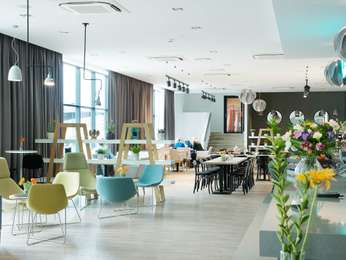 Lokasi hotel
Temukan hotel ibis Styles Siedlce
Mrs Anna Adamiak, manajer ibis Styles Siedlce hotel, akan menyambut Anda.
The ibis Styles Siedlce hotel has 101 rooms, 4 of which are apartments with a kitchenette. Business travelers and sports teams can use our 5 meeting rooms for up to 450 guests. The hotel restaurant serves delicious food and fine herbal teas. Lovers of nature and sports will enjoy walking in the nearby meadows, the hotel's direct access to the water park and the option of renting sports fields near the hotel.
Disain hotel ibis Styles Siedlce
The Green Magic
Discover the unique source of well-being at the ibis Styles Siedlce hotel! The hotel interiors, inspired by the art of herbalism, will provide you the knowledge on plants' species, while unique tea blends served in the hotel restaurant will let you test their healing properties. In every one of 100 hotel rooms you will be surrounded by a cosy, soothing aura and the ergonomic Sweet Bed by ibis Styles will allow you to regain the lost energy. Do you keep your fitness routine while travelling? Excellent! Check out the aquapark located next to the hotel. Embrace the invigorating atmosphere of the ibis Styles Siedlce hotel and your journey will gain a new dimension!

Inspirasi

Healing properties of herbs accompanied humans since the ancient times. At the ibis Styles Siedlce hotel you can use this ancient knowledge to regain your internal balance and peace of mind. The hotel interiors draw the inspiration from the richness of Podlasie region's natural resources, that's why the hotel is harmoniously joint with the surrounding nature. Natural colours, paired with modern design, create an ambience perfect for relax after a journey. Close your eyes. Take a deep breath. Feel how the soothing effect of herbs brings you relaxation and peace.

Desain

Delicate structures of leaves and subtle shapes of petals will accompany you through the entire stay at the ibis Styles Siedlce hotel. From hand-painted wall graphics, through the shape of lamps and carpeting patterns, to subtle embroideries on furniture, can you record them all in your herbarium? The variety of materials reflects the natural textures of herbs and flowers and contrasting elements of concrete and raw wood introduce the modern air to the interiors. Do you like surprises? In your cosy room a flowery gift awaits you that will put you in a joyful mood from the very beginning of your stay. Harmony and comfort? Mmm... Sounds fantastic!

Pengalaman

The soothing effect of herbs and flowers will put you in a state of deep relaxation. In the interiors of ibis Styles Siedlce hotel you will feel the unity with nature and the surge of positive energy. The "Lukrecja" (Liquorice) restaurant will provide the energizing nutrition to your body, while the special attention of the hotel staff will ensure a wonderful mood for your entire stay. Explore the world of unique experience. Discover the special tea blends composed for your well-being. All your worries will go away when herbs and flowers will fill you with the power of nature. Believe in the green magic!
ibis Styles SiedlcePeta lokasi dan akses
ibis Styles Siedlce is located near Pogon Siedlce Stadium, professional sports pitches and a unique water park, 1.7 miles (2.7 km) from the main train station and 61 miles (98 km) from Warsaw Chopin Airport. Easy to reach by car from Warsaw (approx. 55 miles [88 km]) via a direct route following the highway from Minsk Mazowiecki to Kaluszyn, then a dual carriageway (approx. 34 miles [55 km]; follow the signs for Terespol). The journey takes approx. 50 minutes in the opposite direction to the traffic jams.
Jarak dari hotel ke pusat kota:WARSZAWA (90.00 km)
GPS: N 52° 10' 49.38'' E 22° 17' 26.74''
Lokasi hotel
Stasiun Kereta

SIEDLCE (3.00 km / 1.86 mi)

Bandara

LOTNISKO CHOPINA (90.00 km / 55.92 mi)
Kamar

>
Layanan

>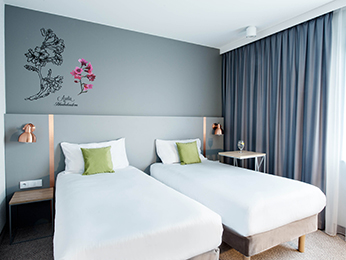 Kamar hotel ibis Styles Siedlce
Jumlah kamar:

101

Jumlah kamar untuk orang dengan mobilitas yang kurang:

101

100% hotel bebas rokok
Total jumlah suite:

4
Cozy, modern and stylish rooms with a comfortable bed and a functional bathroom - you'll find everything you need for a great stay.
Daftar kamar
1 bed Gd Std Kamar Standar 1 bed ganda

Contemporary room with a large bed. Individually controlled air conditioning, desk, telephone, flat-screen TV, free WIFI, bathroom with shower and hair dryer.

2 bed Sg Std Kamar Standar dengan 2 bed single

Suite Family 2 Km Penghubung Std Suite Family Standar dengan 2 kamar
Layanan & aktivitas di ibis Styles Siedlce
Kamar orang sulit gerak: 101

Piaraan boleh 2

Sarapan 2

100% hotel bebas rokok

LUKRECJA


Pertemuan:2
Fasilitas untuk penyandang cacat
Kamar orang sulit gerak: 101
Berbelanja dan layanan
Sarapan pagi

>
Katering

>
Sarapan ibis Styles Siedlce hotel
Sarapan
Find it hard to get up early? Served from 6:30am to 10am (11am at weekends), ibis Styles hotels offer delicious breakfasts that get your day off to a healthy start. Fresh, tasty and included in the price!
Katering dari ibis Styles Siedlce hotel
LUKRECJA
Teras

Pendingin udara

Binatang peliharaan dibolehkan

Area bebas rokok
Jenis kuliner : Internasional
Jam buka : 12:00-22:00/12:00-22:00
| | | | | | | | |
| --- | --- | --- | --- | --- | --- | --- | --- |
| Hari beroperasi | Senin | Selasa | Rabu | Kamis | Jumat | Sabtu | Minggu |
| Makan siang | buka | buka | buka | buka | buka | buka | buka |
| Makan malam | buka | buka | buka | buka | buka | buka | buka |
LOBBY BAR
Jam buka : 12:00-23:59 / 12:00-23:59
| | | | | | | | |
| --- | --- | --- | --- | --- | --- | --- | --- |
| Hari beroperasi | Senin | Selasa | Rabu | Kamis | Jumat | Sabtu | Minggu |
| Tengah hari | buka | buka | buka | buka | buka | buka | buka |
| Malam | buka | buka | buka | buka | buka | buka | buka |
Seminar dan pertemuan

>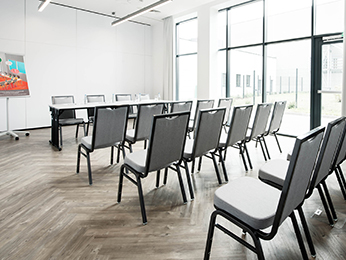 Ruang pertemuan di ibis Styles Siedlce hotel
Kapasitas ruang menurut tata ruang
| Nama ruang | Teater | U-shape | Boardroom | Ruang kelas | Banquet | Tinggi | Permukaan |
| --- | --- | --- | --- | --- | --- | --- | --- |
| | 450 | 100 | 120 | 250 | 300 | m | 449 m² |
| ZIOTOWA | 450 | 100 | 120 | 250 | 300 | m | 449 m² |
Perlengkapan tersedia berdasarkan permintaan
Ulasan pelanggan
An all-service offer
Hotal yang mencakup semuanya! ibis Styles/All Seasons, merek hotel ekonomis dimana semua kebutuhan Anda sudah tercakup di dalam harga: tempat tidur yang nyaman, sarapan prasmanan, akses WIFI di seluruh area hotel, dan hadiah kecil tanpa biaya tambahan.
Hotel-hotel yang baru dilihat
1. Tarif terendah yang ditemukan selama tujuh hari ke depan.
Tarif mungkin berdasarkan tipe kamar yang berbeda. Bergantung pada negara, tarif ini mungkin tidak termasuk pajak, mungkin termasuk PPN saja, atau mungkin termasuk semua pajak (PPN dan pajak liburan). Jika tarif tidak termasuk semua pajak, pajak yang relevan (PPN dan/atau pajak liburan) akan dinyatakan di tahap berikut dalam proses reservasi. Tarif hanya dijamin pada saat reservasi.
2. Membayar
3. Gratis
4. Dekat

Klasifikasi hotel (bintang 1 - 5 di Perancis) sesuai kriteria yang ditetapkan regulasi setempat.